WSI CELEBRATES BEING NAMED BEST AND BRIGHTEST COMPANIES TO WORK FOR® IN THE NATION WINNER 2017
The criteria is determined annually, based on market conditions and trends and applied throughout the country.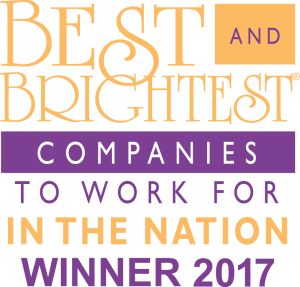 Kalamazoo, MI (January 8, 2018) – WSI is seeing double: after being named a Best and Brightest Company to Work For In The Nation for the first time in 2016, the staffing and recruiting firm is adding a second national-level trophy to their collection with a 2017 win.
"It's fitting that we made the 2017 award announcement to staff at our annual holiday party, where everyone was celebrating the end of a fantastic year, catching up with each other, participating in an ugly-sweater contest, laughing and simply having fun," reflects Blayne Gregory, Performance Improvement Manager at WSI. "One of the many things that makes WSI so great is the work-hard-play-hard culture, and we certainly walk the walk. Every single one of our staff is a heavyweight that contributes to the success of our company, so to continue being recognized for positively impacting their lives on a professional and personal level is beyond thrilling."
With over 20 years of experience conducting Best and Brightest Company competitions, the National Association for Business Resources (NABR) has identified numerous best Human Resource practices and provided benchmarking for companies that continue to be leaders in employment standards. Companies are assessed by an independent research firm based on categories such as communication, work-life balance, employee education, diversity, recognition, retention and more.
The 7th annual Best and Brightest Companies to Work For in the Nation® not only honors organizations as Best and Brightest Companies to Work For, but also celebrates achievement and success in empowering employees' lives, through rich heritage and culture. "These traits distinguish the Best & Brightest and empower winning companies to excel," said Jennifer Kluge, President and CEO of NABR. "The Best and Brightest Program provides the business community with the opportunity to gain recognition, showcase their best practices and demonstrate why each of them would be an ideal place for employees to work."
The companies that have been selected to be recognized nationally as a Best and Brightest Company to Work For® will be featured in an upcoming January online edition of Corp! Magazine with additional recognition at a Best and Brightest Companies to Work For® awards symposium and gala in May 2018 at JW Marriott Grand Rapids, MI.
About the Best and Brightest Programs
The Best and Brightest Companies to Work For® competition identifies and honors organizations that display a commitment to excellence in operations and employee enrichment that lead to increased productivity and financial performance. This competition scores potential winners based on regional data of company performance and a set standard across the nation. This national program celebrates those companies that are making better business, creating richer lives and building a stronger community as a whole. There are numerous regional celebrations throughout the country.
About WSI
You know how they say actions speak louder than words? WSI is an award-winning staffing and recruiting firm because we understand the power of a positive and fulfilling workplace. We live and breathe it every day, and love helping others experience it too. Headquartered in Kalamazoo, Michigan, WSI also has offices in Battle Creek, Grand Rapids, and Sturgis, Michigan, and Marysville, Ohio. Learn more about us at wsitalent.com.
Media Contact
Jamie Woodburn
Marketing & Communications Manager
269-488-5100